x
Sign In Here
Login Problems?
Create a new account

BDP is Estate Agency management software. It is simple and intuitive to use yet incredibly powerful, and features customisable workflow which is uniquely adaptable to your estate agency. It powers website listings, electronic displays, portal listings and internal back-office processes.

To find out what makes us different from our competitors, call us on 0845 646 0073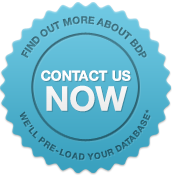 Simple to use
Cloud-based estate agency management interface fully customisable to your business needs.

Fully integrated
Transfer data between BDP and your internal systems via our API and feed all external systems and portals.

Risk-free
We'll set everything up for you. Our contract is a rolling 30 days so you can stop at any time.

100% customisable
Fast deployment by your web design agency. Fit in with your existing branding with total control.
Full back-office
Agency back-office management system allows you to see the precise requirements of your applicants, deliver details automatically both on and off-line and track the entire conveyancing process.
Rolling contract
Try it for free then sign up to a 30-day rolling contract; you're not tied in for years to the system if it doesn't suit you. Simply step away at any time without penalty.
Access anywhere.
Web-based software allows access from anywhere - home, mobile iPad or tablet, hotel… You can access and keep on top of your business at a time and place to suit you. The flexibility afforded to your staff has the potential to significantly improve productivity.
Unique map search
BDP has made a considerable investment in developing what we believe to be the best map search technology in the market. Using Google Maps it shows markers for all your available properties which appear and disappear in real-time as search criteria are changed.
Flexible integration
You don't need any special coding or development to integrate BDP. Just copy our code snippet to ANY page on your existing website and it just works. Let us help you pre-populate BDP with your listings.
...We chose BDP because it is simple to use, amazingly fast to transition and easily integrated with our website...

This system is seriously clever...It's set to revolutionise our business.

We have recently switched to BDP software to manage our online property listings and our in-house customer relationship management - and we're really impressed!